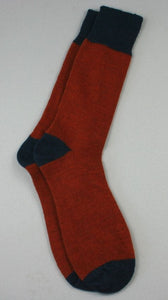 Get that special day feeling in an everyday sock. 
It's like every day is your birthday or Christmas (or whatever day is special to you) when you wear these socks.

Made from alpaca, which has hollow fibres so the air trapped in them gets nice and warm keeping your feet toasty even in cold weather and on concrete pavements, blended with Blue Faced Leicester wool and a dollop of nylon* for added strength.
The socks are thin enough to wear with normal shoes for everyday wear but also tough enough to cope with good long walks.

*We dithered a bit about this as we're not a fan generally of synthetics. But they do make the socks more hardwearing and that's more sustainable than ones that don't last. We've been wearing a pair for the last five years and they're still going strong. 
Made in Britain by a small, independent business in the Midlands
78% alpaca, 22% nylon
Wash on a gentle wool wash